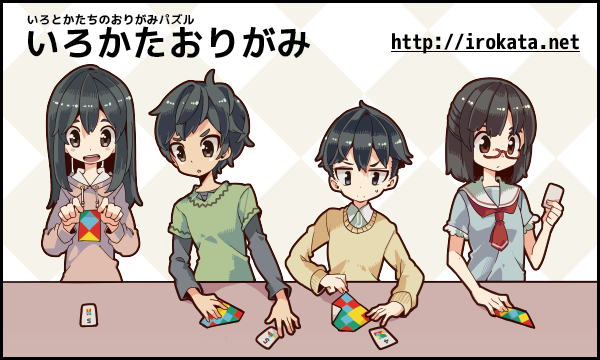 Irokata Origami (いろかたおりがみ)
"Irokata Origami" is
an analog puzzle game that you can play from one person, looking for a folding method to fold at the number of times specified in the subject color and shape.
[For ages 6 and older, assuming about 5 minutes per subject]

PDF data of exclusive origami and the subject card data (currently 45 types) are released free of charge.
Please print the origami PDF file and clip the origami and challenge your subject.
「いろかたおりがみ」は
お題にある図の色と形に指定された回数で折るための折り方を探す、1人から遊べるアナログパズルゲームです。
[6才以上向け,1お題あたり5分程度を想定]

専用おりがみのPDFデータとお題のカードデータ(現在45種)を無料公開しています。
専用折り紙のPDFファイルを印刷し、折り紙を切り抜いてお題にチャレンジしてください。
Download
Click download now to get access to the following files:
[Japanese Text]いろかたおりがみ専用折り紙_A4Web印刷用.pdf
137 kB
Irokata Origami dedicated origami PDF data for printing Web released version.pdf
447 kB